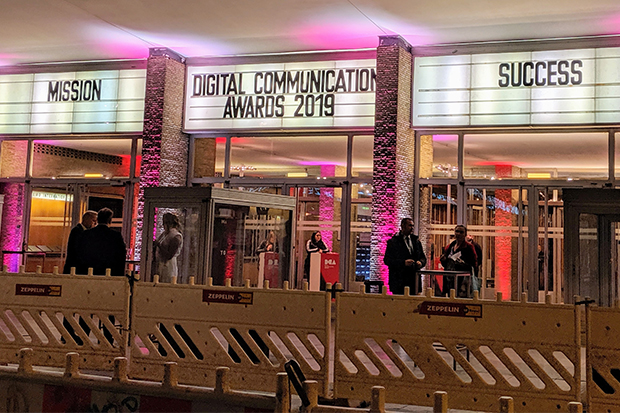 The Digital Communications Awards celebrate brands, campaigns and innovations that are leading the way in online communications across the world.
Shortlisted in the top 5
We entered our 'Journey to GCHQ' campaign into the Recruiting and Employer Branding category, against an incredible 6,000 other applicants. When we found out we were amongst the top 5 shortlisted for the award we were ecstatic. We also knew the competition was strong!
As part of the awards consideration process, we had to present a live pitch in front of a judging panel made up of well-known communications experts. The jury meeting was to take place in Berlin, Germany but thankfully, all projects were to be presented in English.
We began preparing straight away. We established a rough framework for the presentation. We realised almost immediately that explaining the project from concept to delivery in just 8 minutes posed a real challenge! It took a collaborative team effort to refine our pitch into a professional yet fun presentation that comprehensively showed off the campaign.
Nervously presenting our pitch in Berlin
On the day of the jury meeting, we spent the morning studiously rehearsing. We then headed to the Quadriga Forum to look up our presentation time. This year, the awards had an 'outer space' theme so the venue was decorated with all things 'out of this world'. We sat there and waited for about an hour, nervously clock-watching and eating sherbet flying saucers.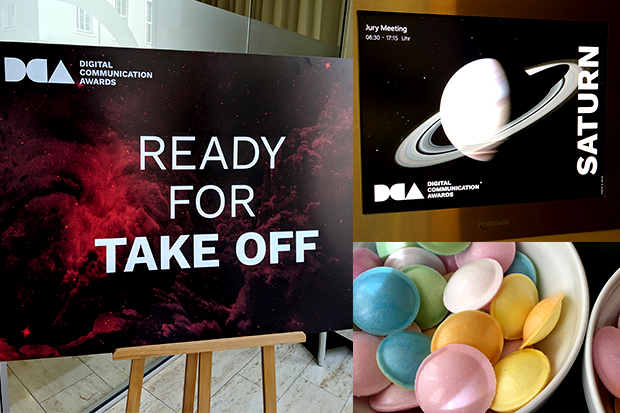 Finally, the anticipation was over and it was time to present our project in the Saturn room: a small room already occupied by the 5 main judges and a few other people. We were given 2 minutes to set up. Stopwatch set, we hurriedly tested our kit but try as we might, we couldn't get the sound on our videos to work within the time!
We began the presentation a little flustered but managed to remember our lines and present the creative thinking behind our campaign designs. Despite our worries, the sound for the videos did eventually work!
When our 8 minutes to present were up, we had 5 minutes of questions from the judges. It was difficult to tell what the judges really thought. Some seemed interested in how we measured success while others exhibited some well-practised poker faces. We left the presentation with no idea if they'd love our campaign as much as we do.
And the winner is ...
The awards ceremony took place that same evening. The venue was a glitzy cinema, transformed for the awards. Agencies from across the globe were in attendance, all waiting eagerly to find out if they had won.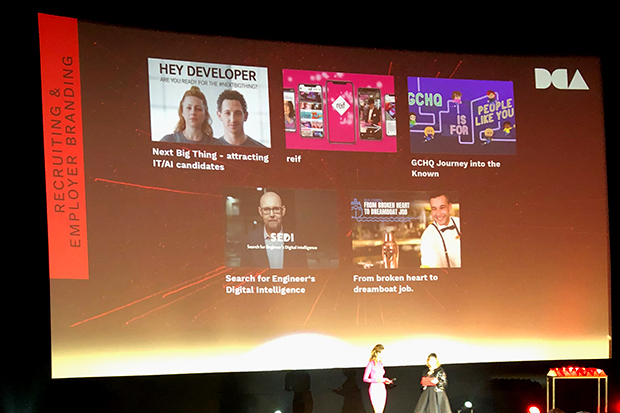 At the awards ceremony, we were already so happy to have been selected for the top 5 shortlist that we already felt like winners. But the best was yet to come. We were relaxed, enjoying the show, when suddenly we heard our names being called. Almost completely overwhelmed, we made our way to the stage to collect our award: a prestigious win for Design102!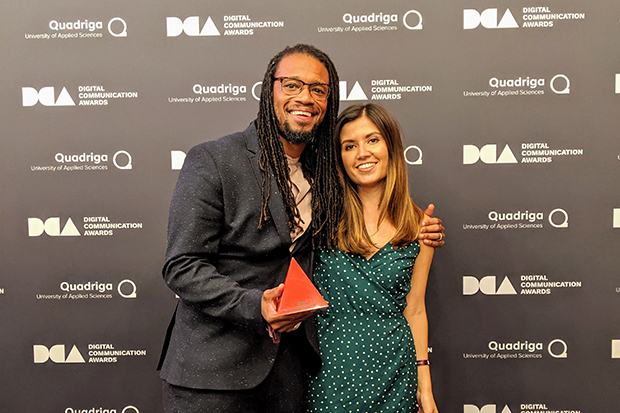 After the awards ceremony, we took advantage of the opportunity to speak to some of the judges. Their feedback was touching: they understood how our designs had helped to positively impact people's lives and were really impressed that we had developed an effective way of promoting diversity and getting young people interested in technology without being too overt.
The campaign was fun and unique but most importantly it was awesome to collaborate with GCHQ and the team on a project that is really making a difference, pushing society in a positive direction.
If you want to read more about our award-winning campaign, see the full Journey to GCHQ case study on our website or read about our process in our previous blog post Journey to GCHQ: How we designed a new GCHQ recruitment campaign.
If you'd like to know more about Design102 or you've got a project we can help with, just drop us a line at hello@design102.co.uk
For regular Design102 updates ...