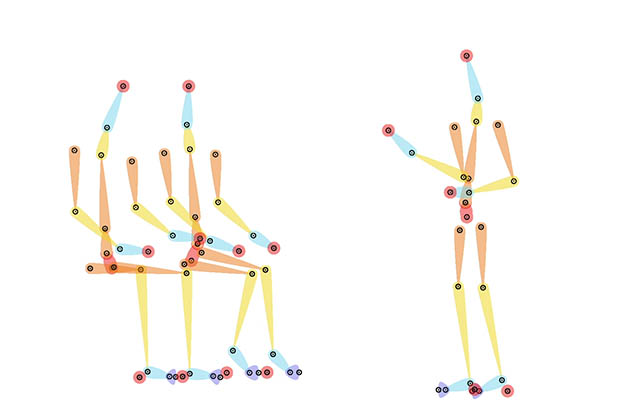 The brief
We were asked by the Government Property Agency (GPA) to create an engaging visual illustration, or 'rich picture', of smarter working scenarios and principles within the Civil Service, to be used online and in print.
Additionally, we would create a short animated film, featuring the illustrated 'rich picture' scene, to expand on the detail, guided by a voiceover.
Understanding the audience and aims
Our audience was public sector senior leaders, management and employees, with the overall aim to create a talking point for our audience to understand and discuss what they have seen.
Crucially, the design would need to encompass a variety of locations where staff could be conducting work, such as an office block, local hubs, homes, commutes or coffee shops. This would demonstrate the healthy work/life balances, appropriate mobile technology and suitable locations.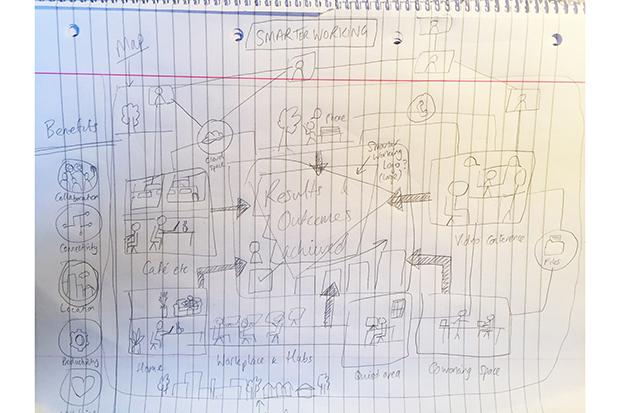 The rich picture
After several rounds of design development, we created the final product: a multi-layered environment of workspace layouts, collaboration, technology and capability. It uses a diverse range of characters to represent modern day civil servants working to their best potential.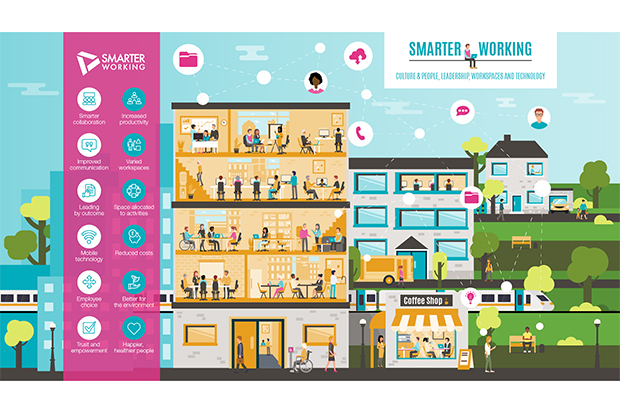 With the upcoming animation in mind, characters and objects in the scene are 2D, embracing a consistent, contemporary and flat graphic style. Colours were developed from the Smarter Working campaign palette.
The main principles of Smarter Working are illustrated with icons to help the audience understand what the benefits are. Additionally, an overlaid network of icons and dashed lines show collaboration and communication linking everything together through technology.
Creating a narrative
Our next task was to begin work on the accompanying two-minute animated film. At this stage, the designers, animator and copyeditor all worked closely to develop a concise and engaging voiceover script.
This, together with ongoing feedback from GPA, developed into a storyboard where appropriate scenes and zoomed sections from the rich picture would be used to visually accompany the storyboard. This was an essential process in order to understand how best to animate the rich picture and edit together the film.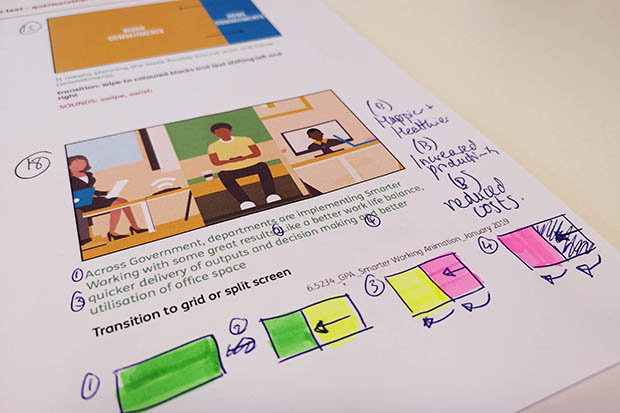 Animating the rich picture
Developing the animation soon proved to be extremely technically advanced and quite a challenge!
First, we had to bring the rich picture to life by adding subtle movements to the scene so it didn't look static. This included stopping and starting elements like the bus and train, and lightly blowing the trees and clouds in the wind. In all there were over 1,000 individual objects and layers… and that was the easy part!
We then set about animating all the characters in the scene – over 40 of them in total. We even gave our characters names to keep track of them! This was important because throughout the animation we would zoom into individual areas and focus on certain actions from particular characters.
The technical process involved using DUIK Bassel, a free plugin for Adobe After Effects that allows for character rigging. It meant we could animate arms, legs, and actions such as walking, so we could allow our characters to go about their smarter working day.
The final film also included sections outside of the rich picture scene, to give context and to support the voiceover narrative.
How did we do?
The project was an excellent collaboration within Design102, combining project managers, client feedback, copyeditors, designers and animators. This allowed us to push creative boundaries and create products that not only look great, but also do the job effectively.
The rich picture is now used across the Civil Service and wider government to spread key messages and create the engagement needed to make the Civil Service a great place to work. It's also having a widespread positive impact, having been distributed to 43 government departments who are directly responsible for implementing smarter working and achieving the 2018 Government Estate Strategy.
If this creative process has piqued your interest, or you've got a project we can help with, just drop us a line at hello@design102.co.uk
For regular Design102 updates ...