Last week some of the team visited the Georgia O'Keeffe exhibition at the Tate Modern. This retrospective brings together over 100 paintings, including some of her most important works.
O'Keeffe made her debut in 1916 and was immediately recognised as a trailblazing artist. In her lifetime she was regarded as an American art icon and today we recognise her as a pioneer in twentieth-century art. She is most popularly known for her depiction of large eye-catching flowers.
In this exhibition the pieces are roughly in chronologic order and have been arranged by theme. Each room features a quote from the artist where her personality really comes across and makes you consider O'Keeffe as a person and not just for the works she created. Photographs by Steiglitz and others, said to influence her, accompany the art and add context.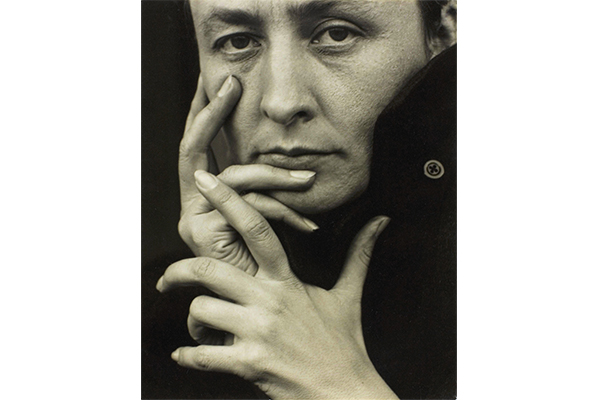 What struck me first is the vibrancy of the colours and also how neat and precise even the charcoal pieces are. (I'd love to know her secret)! Some of the blues especially were so intense they almost hurt to look at. I was less drawn to the more realistic pieces, preferring the abstract and minimalist works, which I feel show off O'Keeffe's talent for seeing beyond the literal into the emotion or the essence that lies behind the piece.
It was great to have the opportunity to see the pieces up close and the flat matt quality of the colours in paint or pastel, which doesn't always come across in reproductions, is very distinctive of her work. Overall I very much enjoyed the exhibition and would recommend it to any O'Keeffe fans.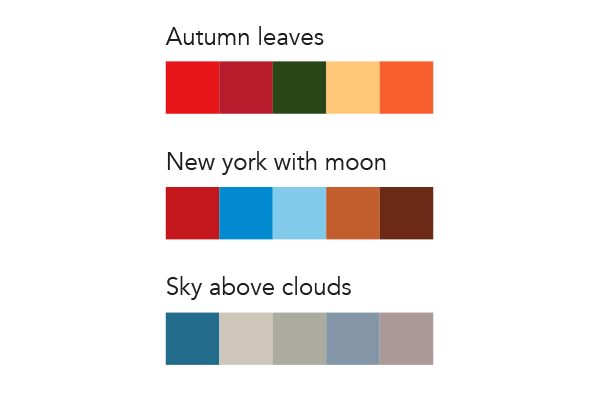 My top five
I've listed my top five pieces from the exhibition below:
Autumn Leaves – Lake George, N.Y. 1924
The vibrant colours are very effective and we liked the diverse abstracted shapes.
New York Street with Moon 1925
We like the colours used and way the perspective creates interesting shapes from the buildings above. "One can't paint New York as it is, but rather as it is felt." Georgia O'Keeffe
New York, Night 1928–9
I love the way the detail has been distilled down to just a few dots of light, but still gives the impression of the vibrant spirit of the city.
Black Mesa Landscape, New Mexico / Out Back of Marie's II 1930
The scene is reminiscent of folds of draped fabric and the subtle rich colour scheme evokes the spirit of the desert landscape.
Sky Above the Clouds III / Above the Clouds III 1963
This cloudscape reminded me of Monet's Water Lilies, it's so simple and the scale of it just made me feel like I could drift away.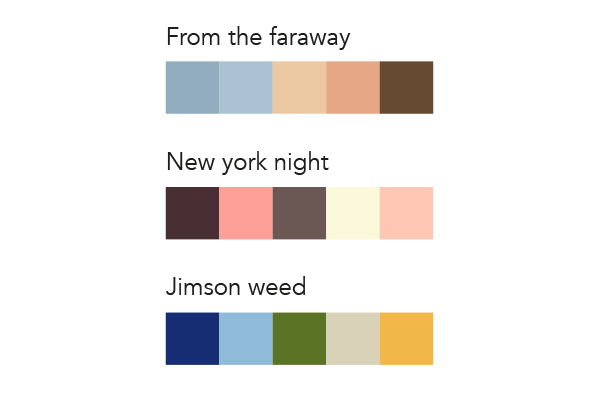 Colour Palettes
As you can see, I was inspired to generate the O'Keeffe themed colour palettes which you can see in this blog post.
The Georgia O'Keeffe exhibition is on at the Tate Modern until the end of October, and the colour palettes I created are available as Adobe CC Assets:
Sky above clouds http://adobe.ly/2bNTXsi
New york night http://adobe.ly/2chAy5G
Autumn leaves http://adobe.ly/2bZFgD9
Jimson weed http://adobe.ly/2c5UCbA
From the faraway http://adobe.ly/2ct6xz8
New york with moon http://adobe.ly/2ctgQpx