In 2014, a staggering 7.64 billion plastic bags were handed out by supermarkets in England. To help encourage people to re-use their old bags, and find more environmentally friendly alternatives, shoppers are now being charged 5p for every new plastic bag they use at large stores in England.
Informing the public
There was already a lot of support for the carrier bag charge before it was introduced on 5 October 2015 but the Department for Environment, Food & Rural Affairs (DEFRA) knew that without an eye catching campaign to publicise what was happening shoppers would be caught off guard. They contacted DESIGN102 to help ensure that the introduction of the charge went smoothly.
Working with retailers
Lead designer Theresa Maynard said, "Working closely with the client, we produced a set of eye-catching designs to help publicise the charge, with the main purpose to inform the public of its introduction and to encourage the re-use of bags. I helped DEFRA present a range of these designs to the British Retail Consortium (consisting of representatives from some of the country's biggest retailers). They wanted something that was simple, easy to use in store and informative for their customers."
A bold, engaging 5p carrier bag graphic was developed, and used as the main logo and identifier for the campaign. It was applied to a range of materials to help support the initiative and to engage the public.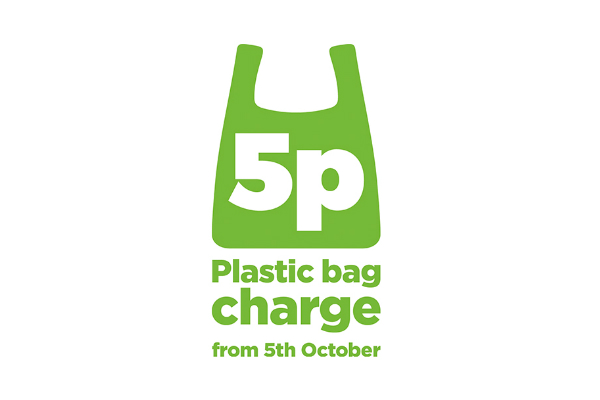 Educating staff and customers
One of the more challenging aspects of the 5p charge was the fact that not all bags and retailers were included. Most importantly, shops employing less than 250 people are exempt from the charge. There are also a number of exceptions depending on use – for example bags containing raw meat, or a goldfish (!) are excluded.
Theresa said, "Setting out clearly what was in and out of scope for the charge was a challenge. We worked with DEFRA to create a cue card that is easy to use and outlines when the charge applies. Retail staff, and customers alike, can see when the charge applies by quickly referring to the card."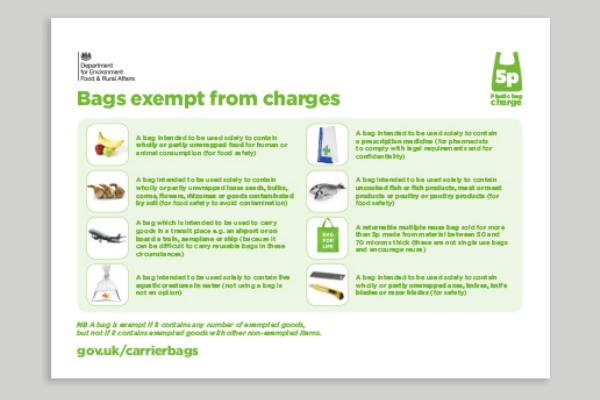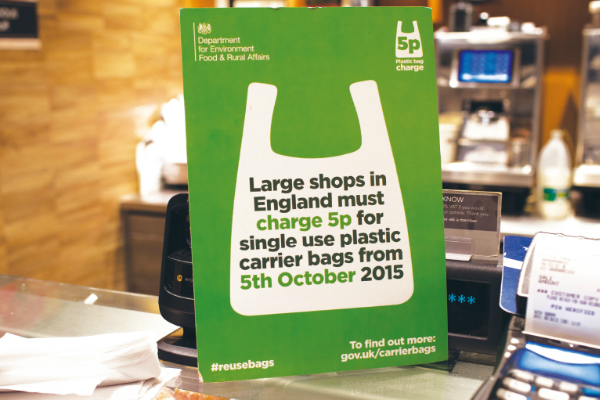 Changing habits
The new carrier bag charge has been received positively and is now in effect across England. Since the charge was introduced Tesco has reported that single-use plastic bag usage has gone down by 78%! A great result and hopefully a trend that will continue.
You can see more work from DESIGN102 at www.design102.co.uk.